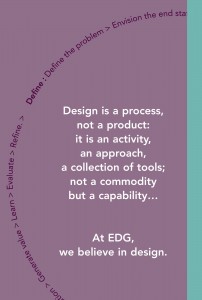 EDG is a direct reflection of its clients. Our history is best told by the success and lasting, long-term relationships we have with our clients.
We have a long history of working with both business and not-for-profit organizations on projects of varying scope and budget. This experience affords us a strong basis for understanding and assessing our clients' needs and objectives and how best to communicate those needs and objectives effectively.  It's our role to ask relevant questions, research, analyze and define the current environment, and help determine the best solution as part of a continuous, collaborative process. We've helped organizations truly make a difference by making their message relevant and intentional, resulting in increased awareness and impact.
Emley Design Group is a strategic design and marketing communications firm founded in 1989. Areas of concentration include strategic design; branding, positioning, logo and identity development; marketing and corporate communications; advertising and public relations; package design; special event promotion; and strategic website and social media development.