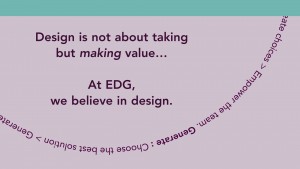 Our process requires a shared understanding of what design and marketing communications are and can do and its role and responsibility in strategy, innovation, and customer experience development.  Our planning and implementation process as outlined below keeps delivering the desired outcomes…
Define:
• Define the problem
• Envision the end
• Define the approach
• Share the commitment
We immerse ourselves in our clients' current environment; examining, identifying, and sharing knowledge in the process.
Innovate:
• Research
• Prototype a solution
• Delineate choices
• Empower the team
By utilizing our varied skills, experiences and perspectives within the context of our clients' needs, each benefits the other through intent, effectiveness and relevance.
Generate:
• Choose the best solution
• Generate value
• Learn
• Evaluate
• Refine
Once the plan is implemented it is time to again examine the approach by stepping through the process to maintain the effectiveness and efficiencies of the design and marketing communications plan.